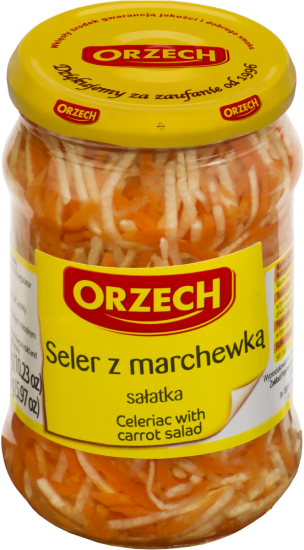 Celeriac with carrot salad

320 ml
Salad of celery and carrots – classic, simple and delicious. Suitable for hot and cold dishes, will be a base for soups, salads or vegetable bake. Celery has a positive effect on metabolic processes, so it is consumed in diets. It also lowers blood pressure, helps with constipation and removes toxins from the body. Carrots contain a lot of carotene, vitamins and nutrients. Full of antioxidants that prevent the aging of our body. If you work on the computer a few hours a day, carrots are ideal for you. High vitamin A content works salutary on tired eyes.
Water, celeriac 26%, carrot 21%, sugar, spirit vinegar, salt, acidity regulator – citric acid.
| | |
| --- | --- |
| | |
| | |
| | |
| | |
| carbohydrate of which sugars | |
| | |
| | |
| | gross weight (piece/carry pack/pallet): | number of pieces in a carry pack: | number of carry pack on the layer: | number of pieces on the layer: | number of pieces on the pallet: |
| --- | --- | --- | --- | --- | --- |
| | 475 g / 5,70 kg / 1140 kg | | | | |